♥ L OCCITANE  L'Eau Shower Milk

cleanses the skin and leaves it silky and smooth.
On a lazy – I-got-nothing-to-do-(or don't want to do anything)- day, I'd like to pamper myself.
I absolutely love products that smell and look good, so I was really happy when I got this beautiful Fleurs de Cerisier L'OCCITANE  L'Eau Shower Milk – bottle.  It's asymmetric with a nice cherry-blossom print.This gentle shower milk cleanses the skin and leaves it silky smooth. The skin is delicately fragranced with a fruity floral scent as soft as a caress from the very first cherry blossoms. Contains a cherry extract from Luberon, Provence.
This milk has a nice texture -really foamy- and a lovely smell which definitely reminds me of Spring/Summer. It is so nice when you put it on your skin you feel so good. After using the milk, your skin feels silky and super smooth…You smell the cherry blossoms and it is as if you are in a park with lovely blossom all surrounding you but also a hint of fruit and roses… sweet, but not too sweet, I like it!
I'll definitely keep using this product for as long as it is in store and if you want to use it too: this Fleurs de Cerisier L'OCCITANE  L'Eau Shower Milk is a limited edition (25o ml) which you can buy for €14,50 in the stores and online.
Slip into a festive mood as L'OCCITANE tells the true story of a magical Christmas in Provence. Discover new limited edition scents, nestled in stylish gift boxes, and timeless gift collections, lovingly crafted with natural ingredients.
L OCCITANE  offers a range of exquisite, original for Women and men. Discover our selection of beautifully wrapped skincare, bodycare, perfumes and home fragrances gift sets. If you need gift ideas, for both Men and Women, try the Gift Finder.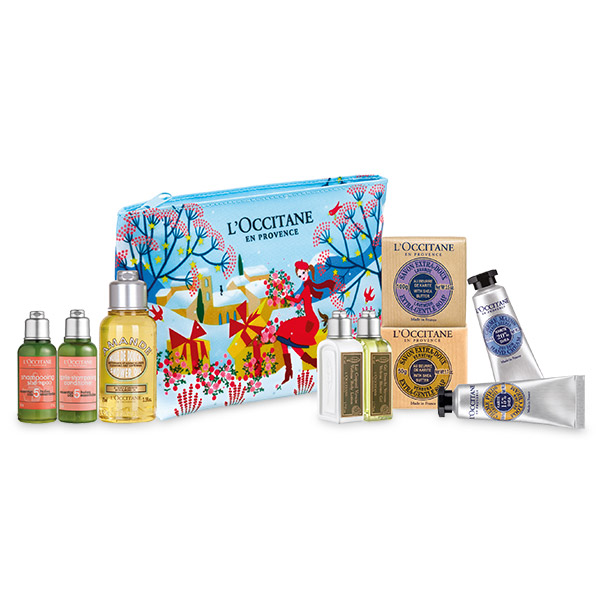 Delightful Travel Collection
Perfect companion for your festive holiday, these indulgent pampering treats will reveal super soft, smooth skin. This delightful set includes:
• 75ml Almond Shower Oil
• 35ml Verbena Shower Gel
• 35ml Verbena Body Lotion
• 50g Verbena Extra-Gentle Soap
• 35ml Repairing Shampoo
• 35ml Repairing Conditioner
• 10ml Shea Butter Hand Cream
• 10ml Shea Butter Foot Cream
• 100g Lavender Extra-Gentle Soap
• in a L'OCCITANE  travel bag.